Nothing enhances the beauty and elegance of your home or business like natural stone elements. But over time, stone wears down, gets scratched or stained, and loses its glossy finish.
Don't let worn or damaged stone detract from the beauty of your property. Proper restoration, polishing, and repair services are all you need to revitalize your stone finishes and let them make the right statement.
Stone Restoration Services in Manhattan
If you're in need of quality stone restoration and repair services in the Manhattan area, Fundamental Cleaning is your go-to source for all your natural stone care needs. We have the knowledge, equipment, and experience necessary for proper care of all kinds of stone floors and surfaces for both residential and commercial spaces.
Every stone material has specific qualities that need to be considered when caring for them. Granite has different needs from marble which is treated differently from limestone, travertine, slate, and other natural stone building materials. If not cared for properly, these materials will degrade over time and detract from the appearance of your home or building. With our services, Fundamental Cleaning can help prevent this type of wear and tear and keep your natural stone looking amazing for years to come.
To help you get the most out of your stone surfaces, we offer a variety of natural stone care services to meet all of our Manhattan clients' needs. Is your stone floor scratched or stained from heavy foot traffic and spills? We provide stone floor restoration for floors of all types of stone. Is your marble floor looking dull? Ask about our stone polishing service. Have a cracked granite countertop? We can fix that too. Whatever it takes to get your stone surfaces looking their best again, the experts at Fundamental Cleaning is here to do it for you!
Marble Floors Polishing Experts in Manhattan
Nothing makes for a more beautiful floor than marble, but it isn't immune to the wear and tear of being walked on and will eventually lose its attractive shine. The best way to restore that shine again is with the professional marble floor polishing services of Fundamental Cleaning.
Our expert floor technicians know how to use the right equipment and products on your precious marble floor every time. We use a soft mop and gentle cleaning solution to first clean the floor of any abrasive dirt and debris. Then we use the appropriate grade of diamond floor pad on our polishing machine to go over and buff every inch of marble to give it that characteristic gleam you're looking for.
We provide this same service for other stone floors as well! Not just anyone in Manhattan knows the individual needs of each type of stone. A Fundamental Cleaning, our expertise extends to all stone flooring materials. We know everything from how to clean granite floors and slate floors to the difference between terrazzo floor cleaning and cleaning travertine floors, and how to polish each one to bring out their unique qualities. No matter what type of stone floors you have, we can clean them, buff out scratches and stains, and polish them with the appropriate tools so they sparkle like new again.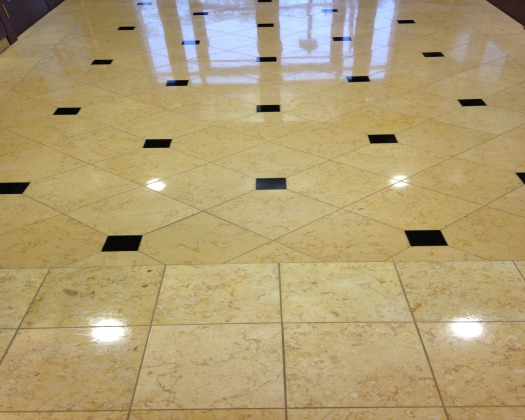 Granite Countertop Repair Service in Manhattan
Granite countertops have been popular for years because of their durability and stylish appearance, but they work hard for your kitchen and that can begin to show after a while. No matter how well you're cleaning your granite countertops, you may begin to see dull spots, scratches, stains, and even cracks in the stone that require the professional touch of Fundamental Cleaning.
Granite is harder than marble, and many stone restoration services will do anything but granite. At Fundamental Cleaning, repairing granite countertops for clients is a specialty of ours. We can repair cracks and chips, remove staining, polish dull granite, and seal and protect your counters to preserve their beauty for many years to come. Plus we can show you how to clean granite countertops the proper way to keep them looking their best for longer and prevent etching. Our expert services include both polished and flamed or thermo granite, so no matter what type of granite countertops you have, we can help!
Are your countertops made of another natural stone? We can help you too! Our countertop repair and restoration services aren't limited to granite. We also specialize in restoring and cleaning quartz countertops, marble countertops, travertine countertops, and terrazzo countertops. No matter what type of natural stone countertops you enjoy in your Manhattan home, Fundamental Cleaning knows the best way to maintain them for you.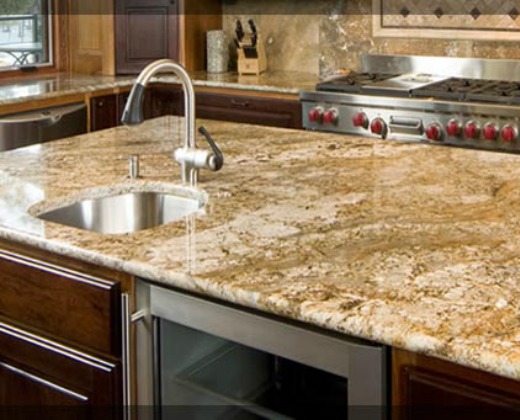 Experienced Manhattan Stone Care
When you need experienced, comprehensive stone care services in Manhattan, Fundamental Cleaning is your best choice. We do it all. On top of stone floor polishing and countertop repair, we also restore and clean stone showers, fireplace surrounds, water features, and outdoor stone to perfection. The natural stone surfaces in your home or office deserve only the best so they can look their best, and that is what you get with Fundamental Cleaning.
If you're ready to revitalize your stone surfaces and give them life again, request a quote today and learn for yourself why Manhattan property owners have been trusting Fundamental Cleaning with their stone care needs for over 10 years.