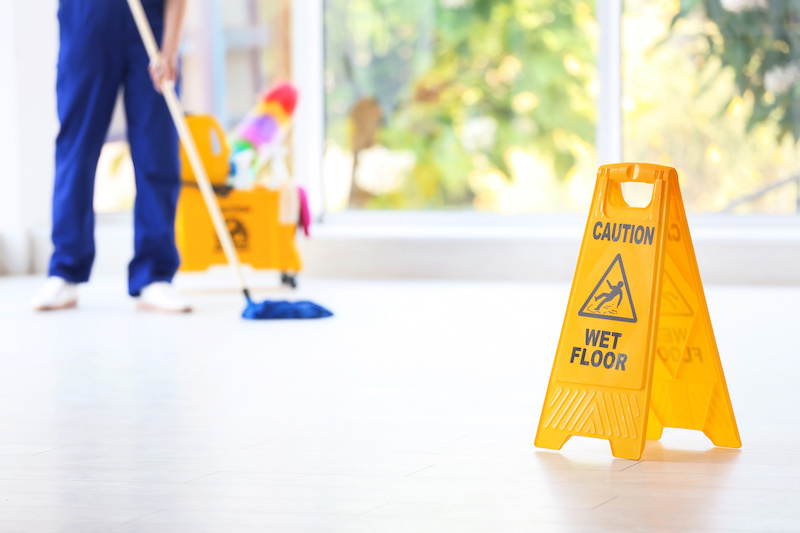 Expert Janitorial Services from Fundamental Cleaning in New Jersey
When your commercial property is looking worse for wear and a little dirty, nothing improves matters like a good cleaning regimen. Regular cleaning doesn't just keep your facility looking good for visitors, but it prevents property damage and workplace accidents, too.
 However, you don't want to trust your business's image and safety to just anyone. To really get all the benefits of regular cleaning, you need the professionals who know how to do it right every time.
Benefits of a Clean Commercial Facility in New Jersey
No one likes a dirty place of business. An unkempt property discourages customers, employees, and tenants from sticking around long, hurting your business's image and reputation.
There's also the question of safety. Breathing in unhealthy air and dust day after day can cause illness, and dirty floors create the risk of falls. It's just not good for business if you're repelling people instead of attracting them.

While you might think hiring a janitorial service will hurt your bottom line, you'll actually save much more money in the long run when you invest in your property's cleanliness. Consider these benefits: 
 
A clean store or office makes clients and customers comfortable so they keep coming back and the business makes a profit.

Employees feel better about their jobs and work better, which can also translate to better profits.

A clean building prevents accidents and the costs of liability and worker's comp.

A clean building prevents illness, reducing employee sick days and insurance claims.

Well-cared for buildings require less costly repairs and maintenance over time.

A clean environment increases tenant satisfaction and reduces tenant turnover.
If you want the reputation of a responsible, considerate building owner or facility manager, keeping a clean building should be one of your top priorities. Luckily you don't have to do this alone. 
For more than 10 years, Fundamental Cleaning has kept commercial properties throughout New Jersey looking their best with our excellent janitorial cleaning services. Our clients know when they hire us they're getting all of the benefits of a cleaner property with the added bonus of personal service and satisfaction every time, guaranteed. If you're ready to reap the benefits of maintaining a pristine facility, Fundamental Cleaning is here to help.
How Fundamental Cleaning Can Help You
Fundamental Cleaning is your single full-service provider for all your commercial cleaning service needs in New Jersey. We use the perfect formula of cleaning expertise, attention to detail, and excellent customer service to exceed our clients' expectations every time. With our commercial janitorial services, we aim to give you a clean, properly maintained, and healthy building environment day after day, week after week. 
Fundamental Cleaning is prepared to tackle every commercial cleaning job. From floor care to bathrooms to window washing to general cleaning and even construction cleanup, we can do it all! 
We offer janitorial cleaning services according to your building's needs and schedule. Our team is very knowledgeable in the correct cleaning techniques for all surfaces found in commercial properties, and we use our own supplies and equipment so you don't have to worry about a thing. 
We offer janitorial services to
Office buildings

Medical clinics, outpatient clinics, and oncology centers

Private schools

Grade schools

Junior high and high schools

Colleges
Every job is done in a timely fashion and to your satisfaction at an affordable rate. We show up on time and work with an eye for detail and your preferences in mind. Team members are professional, expertly trained, and friendly. Every job is done efficiently and meticulously. It's this kind of consistency and dependability that keeps our clients calling us again and again! 
At Fundamental Cleaning, we make communication with clients a priority.  We work with you from the beginning to determine your specific cleaning needs and devise a customized plan of action that fits your schedule and budget. We'll even share insider knowledge with you to help you care for your facility in between professional cleanings. 
We understand that you have a lot of moving parts to oversee as a facility manager, and we do our best to be flexible and work around your specific needs and obstacles so you always receive the cleaning job you expect. 
Fundamental Cleaning will provide you with the standards of cleanliness that your building requires, at a price that makes sense. High standards in both the work we do and our customer service is the key to our success. We are so confident you will be pleased with the professional services we offer, that we guarantee it!
About Fundamental Cleaning
 
Fundamental Cleaning is a full service cleaning contractor, serving New Jersey and New York Area. We specialize in providing janitorial cleaning services to commercial building owners and managers. 
When you hire Fundamental Cleaning, you not only get a brilliantly clean property but your satisfaction guaranteed. We work hard to meet every client's expectations, and we stand behind our quality commercial janitorial services.
For quality janitorial services at a cost that meets your budget, call Fundamental Cleaning today!