Professional Floor Care Company
serving Manhattan, New York, and New Jersey
The professionals at Fundamental Cleaning provide the highest quality cleaning, buffing and waxing and restoration services for any type of floor. We are leading experts in the maintenance and restoration of all natural stone, hardwood, tile, ceramic and vinyl floors.
If your commercial floor needs to be cleaned or treated to restore its natural beauty and functionality, we have the solutions you need. Our knowledge of different floor materials, applications, and equipment make us the team our New York clients call for all of their commercial floor care needs.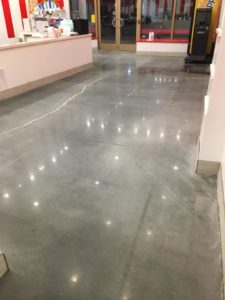 Concrete Floor Polishing
Concrete floor polishing offers a high-gloss, dust-free finish without a coating. Using diamond grinders, we polish your existing concrete and provide lasting shine with a practical, attractive surface.
Concrete floor polishing is a vibrant part of the flooring industry. The benefits of concrete processed to a high gloss are extensive. Many New Jersey facility owners and managers are realizing these long term benefits, such as ease and lower cost of maintenance. Another benefit of polished concrete that is often overlooked is the slip coefficient. Polished concrete, when properly processed, will meet or exceed the national standards for slip coefficient.
---
Forbo Marmoleum Floor Cleaning and Restoration
Fundamental Cleaning is trained and certified by Forbo Floor Systems for Marmoleum floor cleaning and care. We can help you understand your Marmoleum floor and how to clean and care for it. Of course, an occasional interim cleaning is required to keep your floors looking new. We can provide professional cleanings and show you how to do maintenance cleaning in between our appointments. If you have minor scratches we can restore it for you too.
---

Flotex Cleaning and Restoration
Look after your Forbo Flotex floor and it will always look as good as new.  Fundamental Cleaning provides complete Flotex Care. We are the only company in the Greater New York Area who is certified by Forbo to care for their products. If you didn't know, Flotex benefits from the occasional wet clean. We can provide interim cleaning or restorative cleaning for your Flotex floor so it always looks its best.
---

VCT/Linoleum
Fundamental Cleaning provides complete linoleum floor care. We strip, buff, seal, wax, burnish and refinish your VCT and linoleum floors so they gleam again. Even durable floor materials can suffer damage if not cleaned right. Don't trust your linoleum and VCT tile cleaning to just anyone!
We also can help to clean and maintain your gym's rubber floors too! Ask us about our NO STRIP PROGRAM
---
Tile and Grout Cleaning
Do you have dark, stained or discolored grout? With Fundamental Cleaning, your tile and grout floor can look as good as new again for a fraction of the cost of replacement!
PROFESSIONAL CLEANING VS REGULAR CLEANING
Regular cleaning simply cannot achieve the same dramatic results as professional cleaning. This is especially true of floors with textured finishes because the pits and grooves in rough areas have a tendency to trap dirty mop water. Improper cleaning processes and the use of improper cleaners may only exacerbate this problem.
POROUS SURFACES
Grout is porous, which means it is full of tiny holes where grit, grime and allergens collect. Even the most aggressive mop or scrub brush cleaning can't loosen and extract contaminants. To achieve or maintain a brand new appearance, your ceramic tile, porcelain tile, other man-made tile, and especially grout lines must be professionally cleaned. Fundamental Cleaning has the expertise and equipment necessary for effective tile and grout cleaning, saving you money and time!
---
Trusted Commercial Floor Care in New Jersey and New York
When you call Fundamental Cleaning, you not only get floor care experts but customer service experts as well. We strive to earn the trust and loyalty of our NJ and NY clients with quality work and customized service so they come back to us again and again. We are flexible and work according to your schedule. If you have a question or concern, we are quick to answer your call or get back to you to share our expert knowledge.
Fundamental Cleaning gives our clients worry-free services. All of our employees are insured and bonded; you don't have to worry about worksite accidents. We create customized cleaning plans for each of our clients so we know what you need, and our supervisors provide follow-up inspections on all completed jobs, ensuring each project meets our standards of excellence and your expectations. Best of all, we are competitively priced so you get the best value for your money.
For quality, reliable professional floor cleaning services in New York and New Jersey, call Fundamental Cleaning at 732-822-7369 or request a quote today.