Many clients ask us what the best material is for their floors, however, there isn't one material that's the best, it's all about how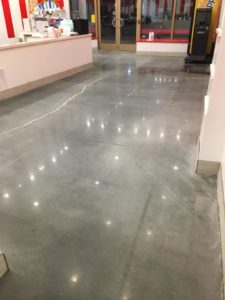 you maintain your floors. Coney Waffle at Pier Village in Long Branch, NJ recently hired Fundamental Cleaning to come in and take care of their concrete floors. Ice cream and various toppings would get ground into the floor's wax surface making it difficult to clean without ripping up the wax. All concrete is porous, so we used a concrete densifier to fill it in and then polished it to a beautiful shine. By using the concrete densifier, the solution helps the concrete hold a polish and makes the surface less permeable to liquids so the floors do not need to be sealed.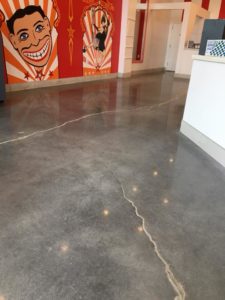 Concrete floors are extremely versatile. Environmentally friendly techniques such as decorative staining, stamping, and polishing give you unlimited options from a design standpoint, and if installed properly, should never need to be replaced. Concrete floors are also green friendly and use sustainable materials as the main raw material for the cement in concrete is limestone which is the most abundant mineral on earth.
The durability and low maintenance needs of concrete flooring are also noteworthy as it costs about .15-20 cents per square foot a year to maintain a concrete floor, and a floor comprised of Vinyl Composition Tile can cost $1.20 or more per square foot a year to maintain.
Still not sure? These floors at Coney Waffle are sparkling like new and yours can too! Click for a quote today!